Holiday Hustle 5k & 10k - November 13th, 2021
Let's run! What better way to celebrate the holiday season than to enjoy physical activity and competition? The Holiday Hustle is an event for everyone from the elite athlete to first-time 5k-ers. With prize money for the elites, age group awards, and a legit 440-meter kid's run (ages 4-12), followed by a delicious pancake breakfast, this is an event the whole family will enjoy. Also enjoy live Christmas music. Run our USATF certified 5k or 10k course that is very flat and fast.
This event was founded by Mark and Darci Thompson, who have helped make it a traditional festivity in the holiday season. "We want to support the sport of distance running in Central Oklahoma on every level. Races should be both competitive and loads of fun, and should be a celebration of hard work and the God-given ability to run."
Super fast course!
The 5k course is a single loop that uses the brand new 2.5 mi Eagle Trail (well, not as new anymore, but amazingly cool nevertheless!). The start/finish line is right in the heart of the Oklahoma Christian University campus just east of the Gaylord University Center.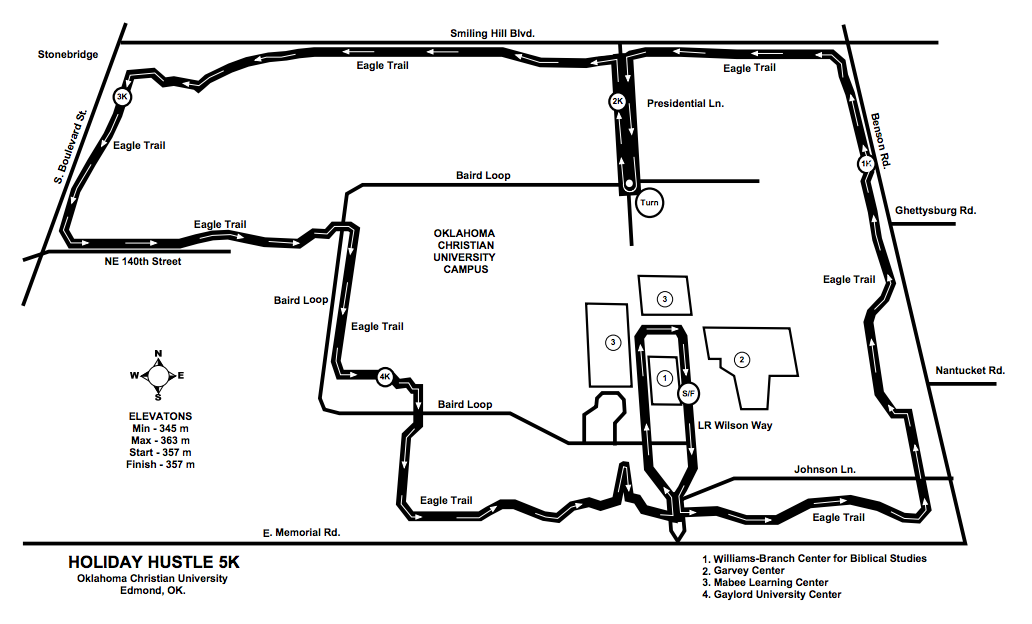 *The Oklahoma Christian Cross Country and Track and Field teams work to put on this event, and are a beneficiary of the event along with the TeamOC Fitness and Wellness program.